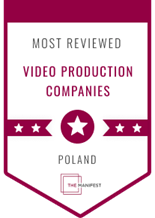 Savvy Animations Named as one of the Most Reviewed Video Production Companies in The Manifest this 2021
Savvy Animations is very proud to announce that we are among the most reviews animation studios in The Manifest. We are proud and honored to be recognized as one of the best in our industry! Our team is grateful that we are able to share this milestone with our clients and partners — we dedicate this accomplishment to every one of you!
Founded in 2016, our team has come a long way since, but you can still expect the same veteran team to handle your development needs! Speaking of our team, we are a group of creatives who are determined to deliver the best services for our clients. We are well-known for delivering the best-animated explainer videos for different companies in various industries.
Our process has been honed and perfected throughout the years! We've been consistently improving our skills and expertise in order to bring high-quality services to our clients. The Savvy Animations team will continue to aspire to be the go-to animation video in Poland and eventually in other states and countries.
Going back to the award, we were truly enamored when we first heard of this award! To be named as a leading firm in the industry and in The Manifest is truly one for the books. Their platform has been one of the best business blogs in the market and we are honored to be representing our state on their site.
Whether you have questions about our creative process, our animation quality, turnaround time, pricing, or anything else, our team is ready to answer all your questions. Get in touch with us today!